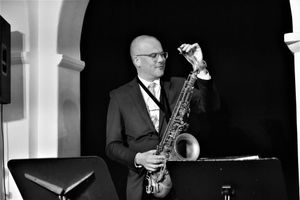 Lizzy & Her Contraband
Inspired by the great jazz combos of the 1930s and '40s - from Billie Holiday to Benny Goodman - Lizzy & her Contraband transport the audience with their thrilling renditions of the American Songbook. 
At the helm is Lizzy: a charismatic siren with a searing wit and soaring voice. Her "powerhouse vocals" (Broadway World), forged singing opera, recall the great old divas while still sounding completely unique and new. Her songwriting, which Janis Ian likened to Leonard Cohen, is filled with the same imagination she used to create TV comedies for HBO, Amazon, Legendary, CBS, and the History Channel, garnering multiple Emmy nominations.
Her Contraband - which can range from a quartet to a sextet - features the same incredible musicians as the big band, but in a much more intimate musical setting which thrillingly showcases Lizzy's songbird voice and the band's world-class musicianship.